Pump Configuration
The pump configuration window is used to define the specific operation of a centrifugal pump. It is opened with the Enter Curve Data button from the Pump Properties Pump Model tab when Centrifugal is selected.

Figure 1: Enter Curve Data
Configuration Method
By default a pump is defined as a Simple configuration. This indicates that the pump junction can represent only one pump - defined by the curves in pump configuration.
If the Configuration Method is changed to Multiple, additional input becomes available on the right of the configuration window. This allows defining different operating speeds or impeller diameters for this pump, along with those configuration's specific curves. See a detailed description in Multiple Configurations.
The first tab of the pump configuration controls the pump's most basic behavior - the pump curves.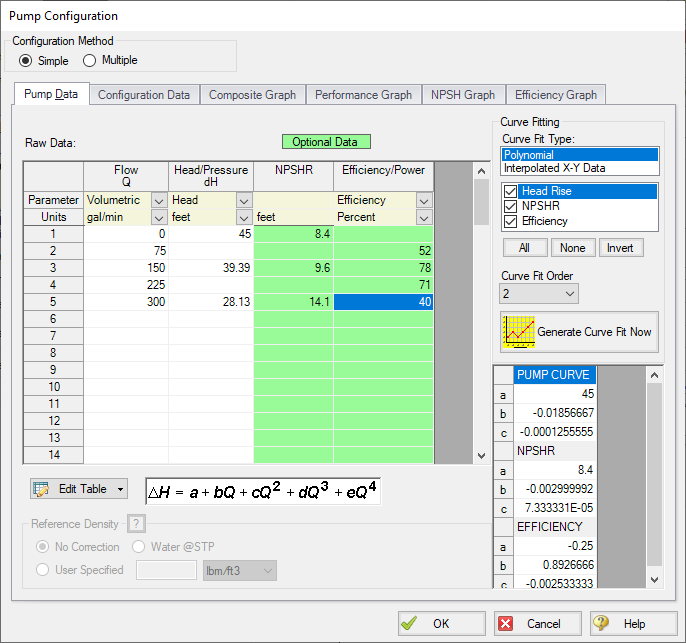 Figure 2: Pump Data
A Pump can have three curves defined:
Note: NPSHR calculations require a reference elevation, which is defined in the Pump Properties window. For most pumps, the NPSH Reference elevation is the centerline of the suction of the pump. However, this should be checked with the pump manufacturer to determine where the NPSH curve is referenced.
After entering the raw values into the table, the data needs to be curve fit.
If Mass Flow, Pressure, or Power are used in the curve definitions, Reference Density becomes an additional required input.
This tab controls some additional behavior or input for a pump junction. Entering or changing values on this tab is optional.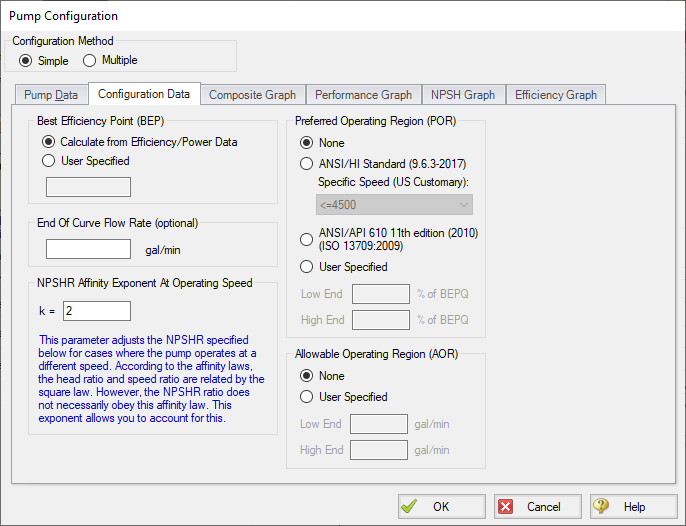 Figure 3: Configuration Data
Graphs
The following tabs display the curves that have been fit to the given data. If multiple curves are defined, the Composite Graph tab becomes available. The other graph tabs show the individual curves, along with points representing the raw data. It is a good idea to check that these graphs to confirm the curve fit is reasonable for any potential operating region.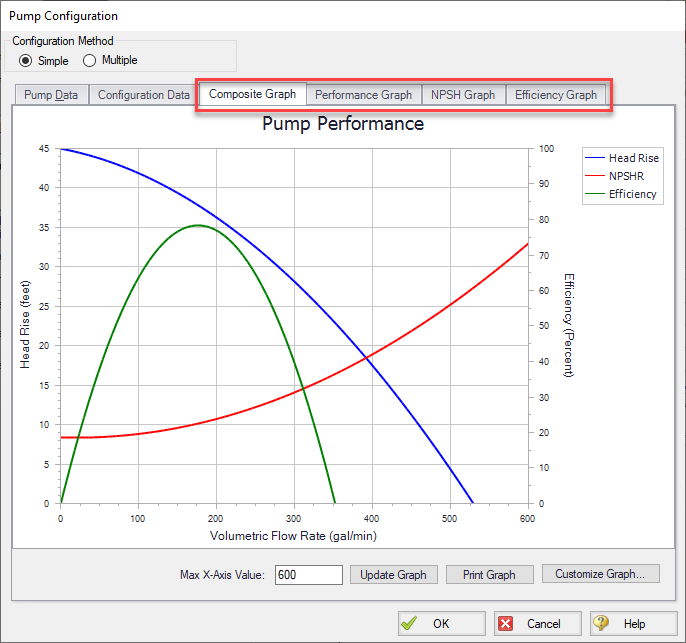 Figure 4: Composite Graph
Related Blogs
Back to the Basics: Calculating and Defining Head